Annual Report 2018: Stakeholder Engagement
As a Trust Port, we are committed to reinvesting our profits into the business for the Port's future sustainability, which in turn has positive impacts across Pembrokeshire in terms of job creation and economic growth. In the absence of shareholders, we are accountable to a wide range of stakeholders from statutory bodies to local residents. We have established a number of mechanisms to ensure those stakeholders understand the role of the Port, and equally to ensure that we understand their views on key issues.
To complement the work of the existing Port Advisory Committee, we formed a Stakeholder Accountability Committee in 2015 and appointed a Non-Executive Director with particular responsibility for ensuring stakeholder views are heard at Board level. We are pleased to see that the Department for Transport has recognised this development and recommended it as best industry practice in the 2018 "Ports Good Governance Guidance".
Our communications last year recognised the different needs of our broad stakeholder audience in sharing information and gathering feedback. In addition to formal stakeholder meetings, our website and social media channels were kept up to date with news and information, as well as issuing the biannual community newsletter, OnBoard, to the 30,000 homes and businesses along the Milford Haven Waterway. Feedback from our 2018 stakeholder survey told us that almost 50% of stakeholders felt that OnBoard has increased their awareness and understanding of the Port and its activities and therefore we will continue to provide information in this way.
We also hosted the annual stakeholder meeting in July to which all members of the public and business community were invited. As well as being an open floor for questions from our stakeholders, this provided us with a great opportunity to share some important updates such as new appointments to the Board, results from our annual stakeholder survey and strategic issues. We also updated stakeholders on the progress of our two flagship projects, Milford Waterfront and Pembroke Dock Marine.
To measure and benchmark our community benefit, we subscribe to London Benchmarking Group (LBG) which is the global standard for measuring corporate community investment. LBG has confirmed that the Port of Milford Haven continues to stand out for the amount it gives to the community as a percentage of operating profit. In 2018, the majority of investment was focused on projects relating to skill, education and improving access to arts and culture.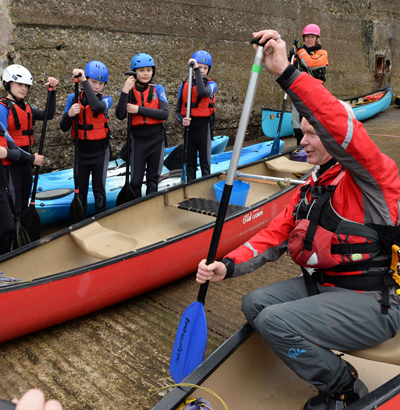 Community Benefit
Our core focus is the sustained reinvestment of profit to build the Haven's prosperity. However, like any major business whose activities and operations play an integral role in the local community we also, when business performance allows, share a proportion of our profits with local charities and community organisations. Last year's support was broken into two distinct areas:
Charitable Gifts
Charitable gifts are processed through our Community Fund Committee, which comprises a number of staff from across the business. The Committee is allocated an annual budget and community groups and charitable organisations are invited to apply for funding via our website. During 2018 over 90 community groups have benefitted from this funding, with clear focus on projects which aimed to improve skills, education and access to arts and culture.
Community Investment
The initiatives that we have supported in 2018 address issues raised, and suggestions made, in our stakeholder survey. These include:
Scholarship Scheme
Our annual Scholarship Scheme started in 2003 and has supported over 60 students. In 2018, Pembrokeshire students Katrin Watkin-Rees, Jannah Kehoe, Isobel Coombe and Matthew Dawes all successfully secured a three-week work placement at the Port in 2019, and £1,500 to support their studies.
Anti-tombstoning Initiatives
We partnered with Milford Youth Matters, Dyfed-Powys Police and Mid and West Wales Fire and Rescue Service to deliver WAVE - a project to warn young people about the dangers of tombstoning (jumping into the sea from height) and to introduce them to safe ways to enjoy the water. It was an extremely successful event with 89% of attendees saying they learnt something new, 96% saying they would tell others about the dangers of tombstoning and 100% saying they had a better understanding of the dangers.
Having won an award from Arts and Business Cymru in 2017 for the anti-tombstoning play, 'Would you Jump?', we further developed this initiative in 2018 to involve pupils from years 7 and 8 who collaborated with a professional writer and director to create their own storylines as a sequel to the original play.
Under the Bridge

Engaging with young people in Milford Haven


Under the Bridge aims to address elements of deprivation by providing accessible opportunities to promote wellbeing and an active lifestyle through art, media and dance. The project also addresses community safety by engaging young people in diversionary activities which promote a positive profile of young people in Milford Haven. Under the Bridge attracted over 118 individuals in 2018. In addition, one young person recorded over 20 hours of volunteering hours within his community and went on to secure employment as a seasonal

events assistant.

Duke of Edinburgh
As a bronze sponsor of the Duke of Edinburgh's Award, we worked with Pembrokeshire's Department of Education team to give more local school children the opportunity to develop their skills and achieve their goals. A particular highlight was seeing thirteen pupils from Milford Haven School achieve their bronze award.

Our Charitable Cause for 2018
Each year staff at the Port vote for a charitable cause they feel passionate about. The winning charity benefits from a year of dedicated fundraising by our team. In 2018, Mind Pembrokeshire was chosen and alongside financial support from the Port, it benefitted from fundraising events such as a charity fun run, book sales, cycle to work day and Christmas jumper day. We even purchased ukuleles for Mind's Ukulele Group.