Annual Report 2018: Safety & Security
Port Safety

The Port's continued investment in health and safety measures, recording systems and training has delivered steady improvements. This is the second year with zero Lost Time Incidents, and the Non-Lost Time Incident Frequency Rate was the lowest score in recorded history, something we see as great progress. As proud as we are in achieving this goal, we do not rest on our laurels and will continue to maintain a safe working environment.
While we already meet strict international and national health and safety standards, we are committed to continual improvement in order to make sure the Port of Milford Haven meets or exceeds benchmarks set by the UK's port industry. Examples of new initiatives include the introduction of Saviour Medical training to our boat crews and dock personnel, modelled on a groundbreaking system integrated into the RNLI, and long reach rescue pole training. We have also introduced a Wellbeing Team, acknowledging the importance of positive mental health.
We are a mixed operation business and working with the public remains a core aspect for many of our operations, including cruise calls and large-scale events. All were delivered without any reported incidents.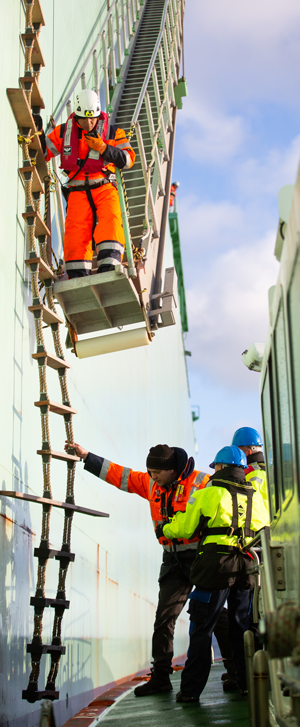 Port Marine Safety Code
The Port Marine Safety Code sets out a national standard for every aspect of port marine safety. Its aim is to enhance safety for everyone who uses or works in the UK port marine environment.
As the duty holder under the Code, the Board is fully committed to providing a safe environment for any person within the Port of Milford Haven limits. Our Safety and Environmental Management System embraces the concepts and standards of the Code and its best practice guide, and is subject to both internal and external audit.
As part of our commitment, we annually agree a safety plan and are required to report on success in achieving objectives. 70 actions were identified in 2018 for the marine division, with a 96% completion target rate achieved.
The Port of Milford Haven's Board formally declared its compliance to the Port Marine Safety Code in 2018 (this is conducted every three years so is next due in 2021). We gained particular recognition for our dedication to ensuring the highest standards, and being a strong voice for enhancing and strengthening the Code.
Port Security
There were no reported security incidents in 2018. In managing our responsibilities, we recognise the continued need to follow the International Ship and Port Facility Security Code. This provides a framework for evaluating risk which has been adopted within our operations.
We have continued to work with UK Border Force and Security Services to keep the Waterway secure.