Annual Report 2018: Our People
Our employees come from a diverse set of backgrounds and bring the skills and enthusiasm that help shape our business. Their continued drive and energy will be important as we move into our next 60 years of operations.
Employee numbers remained stable during 2018 with 176 at year-end. Turnover also remained low at 10.6% and voluntary turnover fell to 4.5%. Sickness levels for 2018 also fell to 2.5% which is now below the national average.
Last year was an important year as we retained the Investors in People accreditation. We recognise the enthusiasm of everyone in working to ensure we maintain our skill base and striving to build skills for tomorrow's needs.
In delivering our collective goals, our operational teams work in close collaboration with our support teams. Their diverse skill sets, from accounting and human resources to communications and engineering, are critical to our overall success. Effective internal collaboration and appreciation of each other's contributions will always be vital. We also recognise a need to change how we work with others.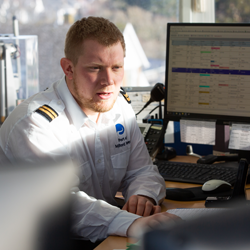 While we do have great examples of how we collaborate externally, we can improve. As well as industry and the community, we need to work more with governing authorities to have a better chance of achieving our collective goals. Our employees will continue to shepherd in this change for us.
Ensuring our culture is supportive and encourages maximum engagement is a key priority. We have traditionally focused on physical health and safety and we are proud to be lost time incident-free for two years running. However, like many UK organisations, we understand that mental health, as well as physical health, can have an impact. We want to ensure that both are treated equally and that wellbeing becomes an integral part of our employee support structure. We have established an employee-led Wellbeing Team who are working hard to help us achieve this goal.