Annual Report 2018: Operational Divisions
Transportation

Transportation remains at the core of our operations and includes safe waterway navigation, cargo handling and ferry services.
Over 2,000 commercial vessels used the Port in 2018, transporting over 31m tonnes of liquid, dry, break and project cargoes. Liquefied Natural Gas (LNG) performance remained subdued, though we have seen some uplift in the first few months of 2019. At Pembroke Port, our south shore operational hub, the transportation of the decommissioned Murco refinery to Pakistan continued. This has been a significant heavy lift operation and it will continue into 2019. This operation was always going to be tinged with regret as the refinery's closure impacted so many local people and businesses. It's been an important driver for the development work we are doing with Milford Waterfront and Pembroke Dock Marine in reducing over-reliance on one industry.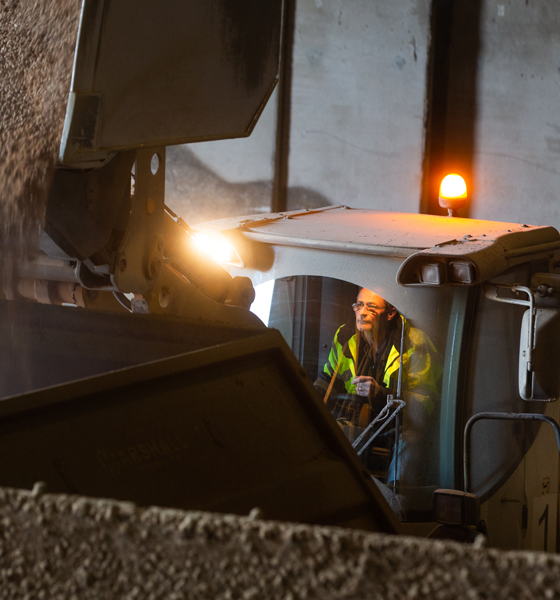 There has been significant focus on maintaining the best conditions for existing customers, while also developing the right facilities, spaces and contract terms to attract new business. Our ferry operations ran smoothly with an 11% uplift in ferry freight traffic. The impact of weather delays was mitigated by the fast response of our employees. We attained the Trade Assurance Scheme for Combinable Crops during the year, demonstrating responsible onsite handling. We also conducted a review of Pembroke Port's market proposition to identify new opportunities. This includes a revised approach to the storage of Refuse Derived Fuel (RDF) which we recognise as having the potential to make a positive contribution to the region's economy. We also joined the SNAP network (a collective of lorry parks for hauliers and truckers) to make good use of our asset base and provide additional facilities for our clients.
Two key operational goals were achieved this year. We successfully undertook an upgrade of our Vessel Traffic Services (VTS) equipment to maintain continued operational excellence. The upgrade also enabled us to carry out a successful live, extended trial of our back-up facility which is an important part of our commitment to safe navigation on the waterway. Our incident response exercises are also an important part of that commitment, and the key agencies work closely together to ensure that any incident is quickly contained and concluded successfully.
It is vital that we ensure a safe working environment for all our employees while maintaining expected service levels for our Waterway customers. Following two incidents involving our pilot boats, we have appointed independent experts to carry out a scientific investigation to help us fully understand the issue and explore solutions.
Energy, Renewables and Engineering

We are the UK's largest energy port. In 2018 we continued to ensure the best service framework is in place for our core energy customers along the Waterway, as well as working to create new infrastructure appropriate to the needs of emergent energy industries.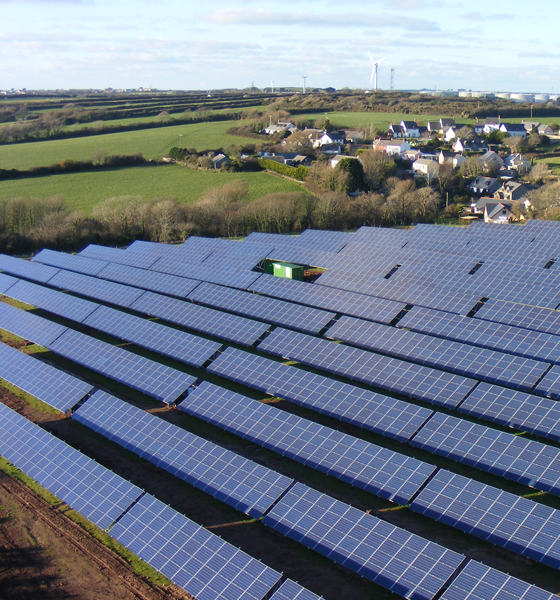 Renewable marine sourced energy is at the heart of our flagship project, Pembroke Dock Marine. This will create a new industry, support economic growth and create jobs, while directly contributing to the growth of decarbonised energy. Without doubt, this is the right place for a marine energy and engineering delivery hub; Pembrokeshire has world-class natural energy, the right skill base and practical experience. Funding will play a vital role in short-term success, helping to kick-start a nascent industry.
It will be critical in achieving the earliest possible impact and maximising the economic potential of an industry projected to be worth €653bn by 2050*. This isn't just about our business, such investment is critical to growing the Welsh and UK economies. In the absence of third-party funding, we maintain our commitment but recognise that delivery scope and timescales will be significantly impacted.
We maintained our strategy of investing in our own energy infrastructure. A new renewable heat system, e-bikes and an expansion of the LED lighting network are helping us increase efficiency across the business. Our major investment in the solar farm at Liddeston, and the network of building-mounted solar panels, performed well with a 13% increase in solar outputs. Together, these investments are driving down operational costs and decreasing our carbon footprint.
* Carbon Trust, Accelerating Marine Energy
Retail, Leisure and Tourism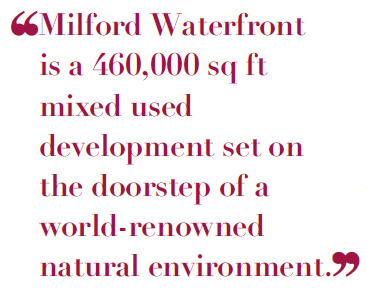 The Milford Waterfront development achieved a significant goal last year. Having gained outline planning consent in 2015, we recognised that the high street model was experiencing unprecedented volatility so we adjusted our approach. This gave us an opportunity to re-focus on what is unique about Milford Haven, and play to our strengths of doorstep access to marine leisure opportunities, beaches and other outdoor pursuits. The revised plan brings leisure and tourism to the forefront in this 460,000 sq ft mixed use development for which we regained a resolution to grant outline planning consent during the year. We see true value here for Milford Haven and Pembrokeshire as we expand the year-round proposition.
Our aim is to ensure Milford Waterfront brings out the features that makes Milford Haven such a unique destination. All our activities complemented this goal, from the Ambassador training programme to our collaboration with the Royal Navy Museum. Our vibrant 'What's On' programme, which included the Welsh Street Food Awards and a wedding fayre, was built upon these foundations bringing new events and visitors to the town.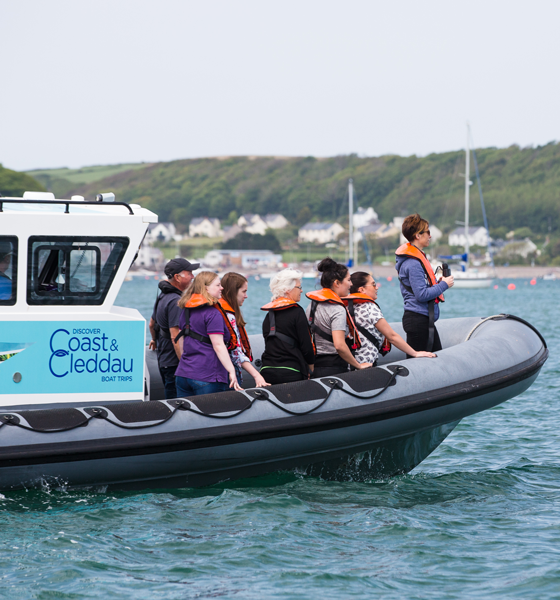 In terms of moving the leisure proposition forward, we launched the Discover Coast & Cleddau boat trips during the summer. This is opening up the Waterway for more exploration by visitors and residents. The feedback has been great, with people enjoying the Waterway's history, wildlife and stunning views. With support from a Coastal Communities Fund grant, our Floatel Cabins arrived towards the end of 2018 and are being fitted out ready for the 2019 season. Facilities were upgraded in the 4 gold anchor Milford Marina. This has proved valuable to existing berth holders and will be important in attracting new visitors and berth holders. We have also invested significantly in our assorted digital networks.
Our cruise season was busy with over 4,100 passenger
s from nine calls. From the exclusive Sea Cloud II to the grand Albatross and Prinsendam, visitors are coming to the Milford Haven Waterway from around the world. It's a perfect launch pad to explore Pembrokeshire's incredible landscapes. We offer two call sites, alongside at Pembroke Port and anchored at Milford Haven, which offers maximum flexibility. However, we do recognise the limitations on Milford Haven in the absence of a dedicated cruise berth and the impact this has on our other operations.
Building on from last year's major acquisition of Havens Head Retail Park, we have extended the base offer to include a hospitality outlet with the addition of a Drive-Thru Costa. This expands Milford Haven's national brand proposition as we strive to help deliver the needs of this busy town.
Fishing, Fish Processing and Aquaculture
Our focus in 2018 has been to ensure we are delivering the right services and facilities for the fishing industry.

Milford Haven is an important hub. It is Wales' largest fishing dock, landing both fish and shellfish. Our view is that critical mass will help deliver long-term operational viability for us and our customers. We are therefore creating the spaces and opportunities to bring together commercial fishing, fish processing and aquaculture.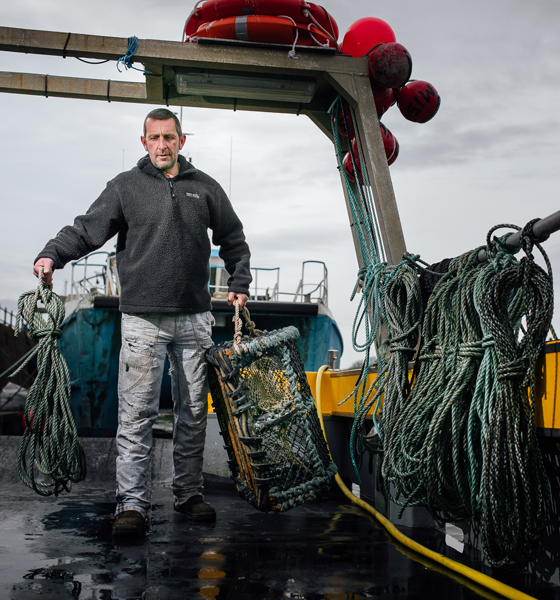 During 2018, we've contributed to governmental investigation into the sector looking at how, together, we might re-energise fisheries. We are also continuing to work with the aquaculture sector and are exploring the needs of this industry and the economic contribution it can deliver alongside our existing fishing client base.
In terms of facilities, we've secured a grant from the European Maritime Fisheries Fund (EMFF) which is helping us to enhance the fishing docks' proposition. This includes the provision of a new Hiab crane that will help fishermen land their catch more safely and efficiently. Separately, we've completed lock gate refinements which means our fishing customers can get to sea faster with the lock gates operating 24/7 with the tide. The expansion of our fuel services is also proving valuable to our customers. Importantly, we continue to offer our own fund, the Fishermen's Safety Fund. This dovetails with the EMFF fund to tackle the issue of safety at sea. Once beyond the docks, we want to remain supportive of fishermen and help them stay safe.