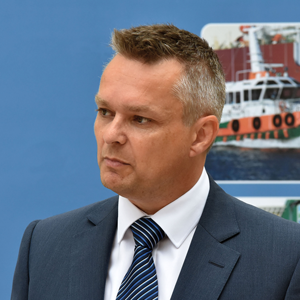 Andy Jones
Chief Executive and Executive Director
In 2019, Andy was appointed Chief Executive following a period in an interim role. He is charged with advancing the Port's strategy and capability at a key time. Working closely with the rest of the Board and the Port's executive and operational teams, Andy has been focusing on the culture within the Port while ensuring that the flagship projects are delivered. Andy is passionate about having a key focus on the resilience of core business services and developing the right conditions for future growth.
Read the Chief Executive's Annual Report Q&A
Biography
Andy joined the Port as Finance Director in 2011 bringing with him extensive working knowledge in senior financial, commercial and operational roles across a broad range of industries. In 2014, Andy accepted the role of Deputy Chief Executive adding responsibility for the marine operations and risk management aspects of the Port. He was appointed Chief Executive in 2019.
He qualified as a Chartered Accountant with PricewaterhouseCoopers in Cardiff before continuing with the firm in Toronto, Canada. In 2000, he was appointed as Finance Director for a division of S&P500-listed machinery and equipment manufacturing giant Manitowoc. He subsequently moved into an Operations Director role within its commercial cooking equipment business and worked closely with chefs, restaurant owners and food chains such as McDonalds. In 2007, Andy took over as Commercial Director for the Canadian distribution business of Manitowoc, growing the business by double digits each year. In 2009, he started his own successful company focused on providing trusted advisory services to SME business owners, before returning to the UK.
Andy is a member of the CBI Council in Wales, a Board Member of the Haven Waterway Enterprise Zone and a Board member at Pembrokeshire College.