2020 Our Operations
Despite a challenging year, the Group has been able to maintain a safe and efficient service for its customers. In striving for excellence, our front-line teams have been able to quickly adapt to changing working conditions, including social distancing protocols, during the pandemic. Trading has been affected, particularly in consumer-facing sectors, but revenues remained strong as most of our principal business customers continued to operate at close to normal levels throughout the lockdowns.
PORT AUTHORITY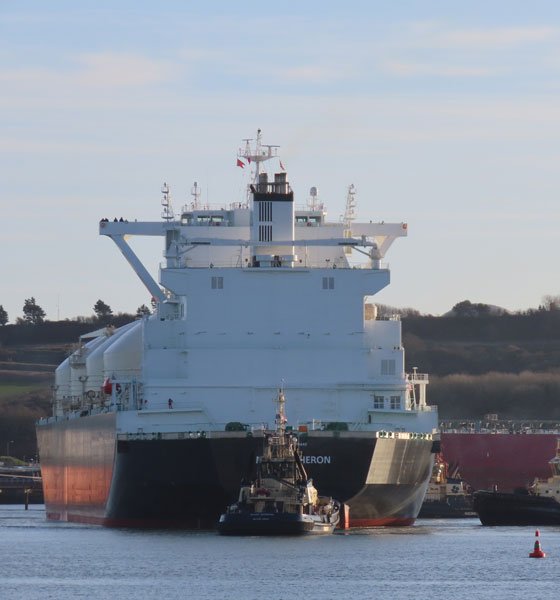 As expected, the impact of Covid-19 on the UK economy was reflected in shipping movements. There was a marked fall in traffic associated with reduced demand for many types of refined products after the first quarter of 2020. However, this reduction was mitigated by a rise in traffic to and from the LNG and storage terminals. Overall, gross tonnages were marginally up on 2019 at 57.7m gross tons, thanks to a greater proportion of larger LNG shipments (the gross tonnage of LNG shipping was up by more than 1.4m gross tons on 2019). However, the total number of dues-paying ships using the Port during 2020 was 1,831, down 117 from 2019.
Within our marine operations, the challenge was ensuring our customers' shipping was handled safely and efficiently with no harm to the environment, whilst ensuring our pilots, boat crews and other front-line teams remained properly protected. Early in the pandemic, the greater risk was considered to be of the virus being transmitted across our borders from overseas via shipping crews. However, as the UK infection levels rose and shipping companies developed protocols that kept their crews away from the virus by virtue of their offshore isolation, it became important to ensure we could provide assurance to ships' masters that contact with our staff posed no risk to their crews.
We would not have been able to continue to provide the high quality of service expected by our customers without the commitment of our staff. They handled the new procedures with great professionalism and many people depended on this resilience. We were given a powerful reminder that the whole of the UK depends upon the smooth operation of the Port; during the first lockdown 85% of the national gas needs were being met by the Pembrokeshire terminals.
Despite the many implications of Covid-19, we carried out an extensive upgrade to some of the navigational aids on the river in support of our core conservancy role. We also invested in a new VHF radio system to ensure that Port Control communications remain properly served.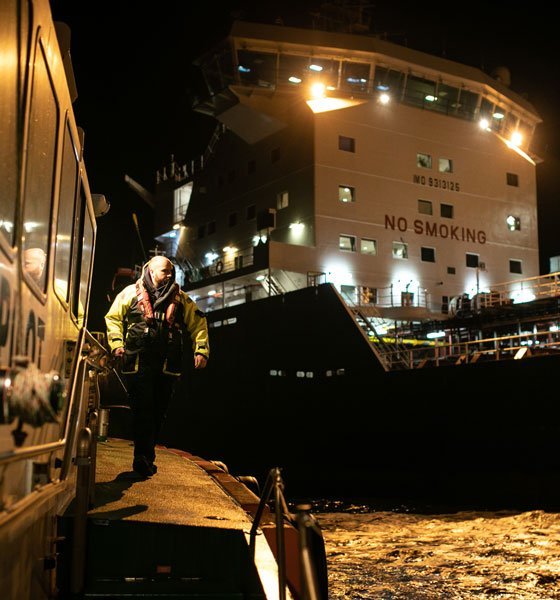 Our work to build further resilience in our marine operations continued in 2020. We have also increased both the number of staff qualified to operate Vessel Traffic Services in Port Control and the numbers of pilots. With regard to the latter, long term planning is notoriously challenging. It takes more than five years working on this Waterway for a pilot to achieve Class 1 status, enabling us to assign them to safely handle the largest ships we receive.
This need for long term planning is consistent with our core value of sustainability. We are constantly balancing what our business needs to do now in order to safely serve current needs and demands, all the while ensuring our unique environment remains protected and horizon scanning for potential future requirements. For example, understanding the likely demands of a growing marine renewable industry will be vital but will need early planning, so there is no conflict with existing or future navigational needs.
PORT SERVICES
Ferry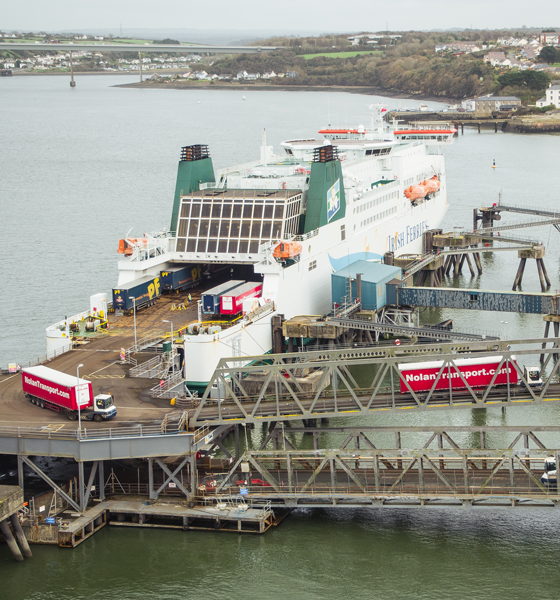 2020 at Pembroke Dock Ferry Terminal was dominated first by preparations for Brexit and, later on, the impact of Covid-19.  The latter affected both the pace of those preparations as well as day to day operations as we worked to keep our teams safe. However, there were positives in spite of the challenges.
Preparing for Brexit, the priority was to prepare for the possibility of a no-deal departure on 31 December 2020. In practical terms, this entailed increasing our freight holding capacity by 50% within the ferry terminal, as well as putting in other measures to increase our infrastructure's resilience. We have also been working closely with the Welsh Government as they prepare to institute border checks for live animals, animal and certain plant-based products moving between Ireland and the UK after July 2021 (delayed until 2022).
Covid-19 had an impact on the Ferry Terminal business, which saw a significant reduction in the number of passengers due to the public health restrictions implemented across Europe. Despite the operational challenges amidst a pandemic, our team has consistently met our 2-hour turnaround commitments, sometimes exceeding that to make up time following weather delayed crossings. The achievements of the team were particularly credit-worthy, as they were having to adapt constantly to meet fast moving pandemic advice and stay safe.
It is thanks in no small part to the work of our ferry terminal staff, that the Port agreed a long-term extension to our contract with Irish Ferries to continue operating out of Pembroke Dock Ferry Terminal. 
Pembroke Port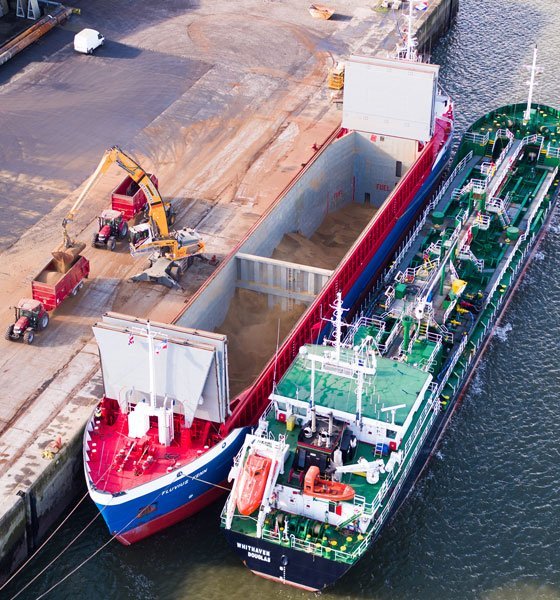 Pembroke Port's Quays 1 and 2 saw record breaking occupancy levels in 2020. Some large-scale infrastructure projects made extensive use of both laydown (at one point 100% utilised) and quay space. It was also a good year for animal feed shipments. Both brought a fresh reminder of the Port's vital role, not only linking the UK supply chains between road and sea but also supporting businesses based on and around the Waterway.
Dredging was carried out to increase the size and control depths of both Quays 1 and 2. The expanded capacity at Quay 2 will enable animal feed shipments to dock there in the event Quay 1 is occupied.
Marina
The Marina business was affected by a stop-start season as a result of Covid-19 lockdowns. Despite record berth occupancy levels (99%), and a long waiting list, revenues were depressed by the loss of fuels and other ancillary sales as boatowners were kept away by Covid-19 regulations.
Fish Docks
The Fish Docks enjoyed another good year for landings, finishing the year at 3,615 tonnes, up from 3,321 tonnes in 2019. We were also able to complete a project to upgrade dockside facilities. We installed a new HIAB crane to ensure the safe and efficient transfer of catches and also modernised the showers, toilets and laundry facilities for crews. These investments were supported by the European Maritime Fisheries Fund.
Decarbonising the Economy
We continue to find ways to minimise our impact on the environment. We are also playing a leading role, in close collaboration with others, to help the region meet decarbonisation goals set by the Welsh and UK Governments. Our ambition is to ensure the Waterway and the wider region reap the social, wellbeing, environmental and economic benefits of the UK's move to net zero emissions, set out in the Prime Minister's 10 Point Plan for a green industrial revolution. Central to our goal of delivering a sustainable business for future generations, two key projects, Pembroke Dock Marine and Milford Haven:Energy Kingdom, made good progress in 2020. Both seek to attract and root industrial innovation in decarbonisation here in Pembrokeshire.
Pembroke Dock Marine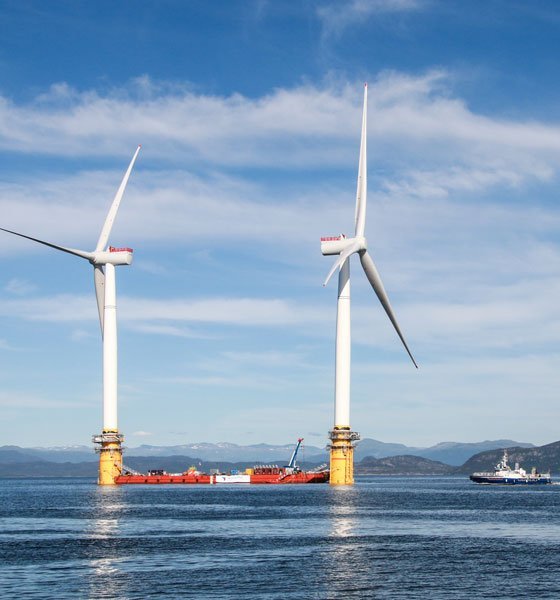 After five years of planning and building a business case, 2020 saw a breakthrough for the £60m Pembroke Dock Marine project. Following the sign off of City Deal funding by the UK and Welsh Governments, with crucial support from Pembrokeshire County Council, the Port of Milford Haven was able to submit a planning application for the works required to adapt Pembroke Port for its new role.
The funding from Swansea Bay City Deal and the European Regional Development Fund through the Welsh Government, is supported by a £13.5m investment by the Port over the next few years. It will see the creation of new laydown space, supersized launch and recovery facilities and premises for offices and workshops. In 2020, we carried out some public consultation work over the plans. We have also been working to minimise heritage impacts to ensure we deliver the full potential of the project while better telling the story of the dockyard and preserving as many assets as possible for future generations.
Milford Haven: Energy Kingdom (MH:EK)
MH:EK is a collaborative project exploring the benefits of hydrogen as a low carbon fuel. It made good progress in 2020. As part of the project, we installed a hydrogen compatible heating system in one of our buildings. The measure of success for this project is for the partners to set out a viable and low risk roadmap for businesses in the region to invest in hydrogen-fuelled technologies for heating, transport and other uses.
HOSPITALITY AND TOURISM
2020 was a challenging year for hospitality and retail businesses. While this part of our operation was significantly affected by lockdown restrictions, we were lucky to be able to rely on the fundamental strength of our business as a whole to weather the storm. Where we were able to adapt services to meet social distancing regulations, we did. However, without the ability to stage events such as the Fish Festival and the Milfood Haven Street Food Festival, our destination team focused on enhancing our digital presence, using social media to maintain a connection with our customers and the general public.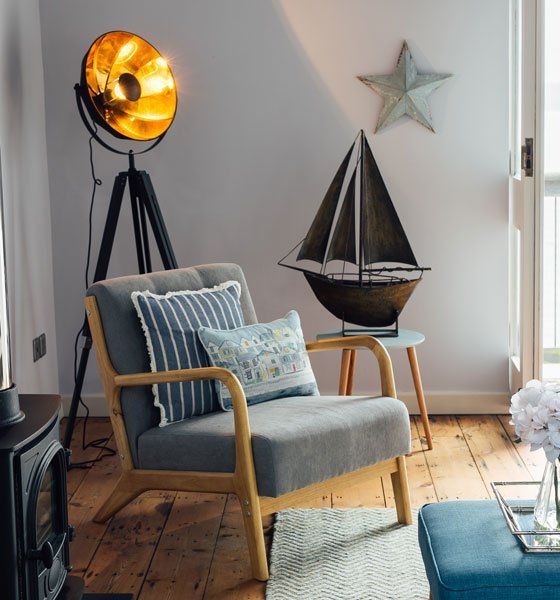 Delivering on our strategy for the area, we secured planning for a 100-bedroom hotel beside the marina and work on the hotel site began in December 2020 with construction commencing in January 2021. The new hotel will be operated and managed by The Celtic Collection – the team behind the iconic Celtic Manor Resort - and will form part of The Celtic Collection's portfolio of Tŷ Hotels. We also opened 'The Shores', a new luxury apartment, which joins our Floatel Cabins in offering additional high quality, self-catered accommodation at Milford Waterfront. (The Floatel Cabins were part funded by the Coastal Communities Fund (the Coastal Communities Fund is funded by the Government with income from the Crown Estate's marine assets.))
However, as a destination, the strategy for Milford Waterfront works not because of any one business. It is a family of businesses and diversity is key to its success as a destination. With shops, cafes and restaurants closed, our team collaborated closely with, and promoted, other business owners as they all sought ways to reach out to the wider community and keep their businesses going. It's hoped this deeper collaboration sets us all in good stead once the worst of the pandemic has passed.
Despite adverse trading conditions, MiIford Waterfront continued to attract investment and new businesses in 2020, providing evidence that the destination is growing in reputation as a place to start a retail or hospitality business.
INVESTMENT Property PORTFOLIO
Although our wider property portfolio performed well in 2020, attracting a record occupancy level of 95%, the Havens Head Retail Park was adversely affected by another difficult year for market sentiment in the commercial property sector in respect of retail sites, exacerbated by the pandemic. As a result, a revaluation loss of £1.3m was reported in 2020 for our investment property portfolio.  As cashflow across the business remains strong, this doesn't impact our immediate trading position. Our investment portfolio plays an important role not only in underpinning our investment plans, but also within our community, so we will continue to work collaboratively with our tenants to support them as they bounce back from an extremely difficult period of trading.
We have developed a close working relationship with many of our tenants, many of which are well aligned with our strategic goals (for example, hospitality businesses around Milford Waterfront). We have been doing our utmost to support any tenants who have been particularly affected during the lockdowns and, with signs of some reprieve ahead, look forward to working in close collaboration with them to ensure we can all come back stronger.
Despite difficult trading conditions, there was still evidence that some businesses and entrepreneurs had an appetite to invest and expand. Two new enterprises, a commercial bakery and soap maker leased units in the former processing building in the Fish Docks.