2020 Our Environment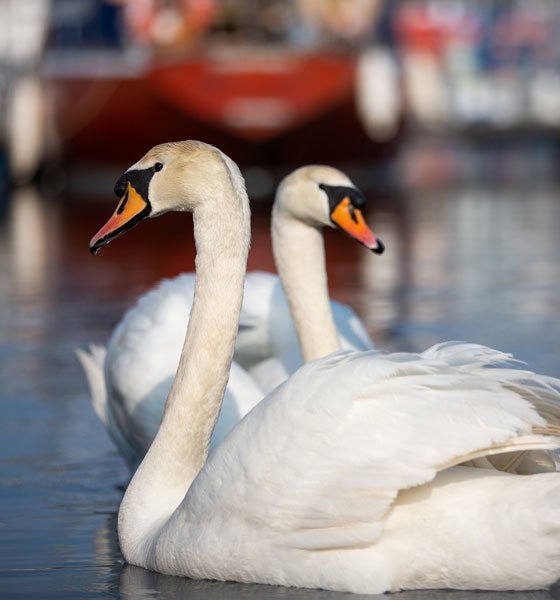 Sustainability as a core value
All our operations are governed by a statutory commitment to protect the Waterway's environment. However, we spent much of 2020 preparing a strategy to help us meet commitments of the Welsh and UK governments to the global environment, including the target to be 'carbon neutral' by 2050.
To do this we needed to re-centre our business around the core value of sustainability. This means that our operational activities, and the decisions that drive them, must now consider not only their own impacts, but also how they can contribute to our ambitious commitments. For example, all our projects, terrestrial and marine, will need to have a net positive environmental footprint.
While there will be a cost to this, there are opportunities too. Some of the work we have been doing, for example with the Milford Haven: Energy Kingdom project, looks at the commercial benefits that decarbonising the Waterway could have. If a viable pathway towards widescale use of hydrogen as a fuel for transport or heating is demonstrated, then the emerging marine renewables sector could benefit from selling excess generating capacity into the production of green hydrogen (hydrogen produced by electricity from renewable energy such as offshore wind).
As elsewhere in our business, collaboration holds the key to delivering on our environmental goals. We cannot bring about wholesale decarbonisation of industry in the region alone, but by working with our partners, bringing our values, resource and skills to the fight, we can help make changes happen.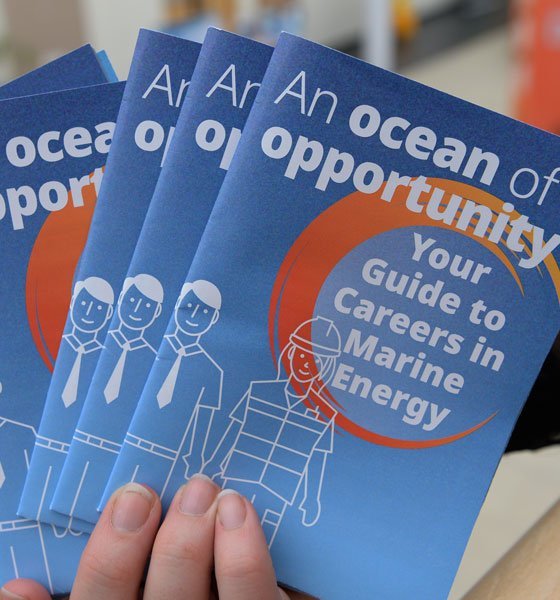 CCAT
The Coastal Communities Adapting Together (CCAT) initiative, of which the Port is a partner, has had a successful second year. The project is part funded by the European Regional Development Fund through the Ireland Wales Programme, and led in Wales by the University of Cardiff. It's using innovative tools to help the local community understand how climate change is affecting their local area and introducing collaborative resources to help communities adapt proactively together.
As part of a STEM (Science, Technology, Engineering and Maths) event held early in 2020 with partners across Pembrokeshire for younger learners, CCAT created a Guide to Careers in Marine Energy. A bilingual pamphlet, it advises on possible routes into the young, dynamic industry.
The development of digital tools that help people engage with issues around climate change, and the expanded use of online learning resources that help us to get around the limitations on face-to-face activities in 2020, mean there should be a wealth of useful material publicly available after the project's completion this year.
Decarbonisation
The response to the Covid-19 pandemic has involved substantial changes to ways of working throughout the business, and these changes have influenced our greenhouse gas emissions in certain areas: many staff have been working from home, but office premises have in many cases remained open with a small number of staff present. The requirement for well ventilated workplaces has altered the balance between open windows and heating use to maintain an acceptable working temperature in our buildings across the estate. Business travel has also dramatically reduced with the increase in online meetings.
Operationally, the ferry faced comparatively little disruption, and the pilotage and other services provided to international shipping all continued without interruption. The business emissions from those activities, for example, pilot boats, tug plant etc, have not been dramatically affected by the pandemic situation. The overall emissions profile is therefore difficult to compare with previous years and must be considered in the context of an extraordinary business year.
Based on UK Government's published carbon conversion factors for 2020, the Group's total emissions for 2020 were 1,370 tCO2(eq) (over 480 tCO2(eq) lower than 2019, a significant reduction). The renewable energy generation of 5.286MWh from our photovoltaic arrays equates to 1,232 tCO2(eq). This is 100% renewable energy supplied to the grid, and as such is considered to offset some of our greenhouse gas emissions. With this offset, the Group has a carbon deficit for 2020 of 138 tCO2(eq) compared to a deficit of 409 tCO2(eq) in 2019 which continues our trend of dramatic reductions in GHG equivalences year on year. This residual quantity of emissions for 2020 will, as for 2019, be offset by investment in an accredited carbon offsetting scheme in order to achieve carbon neutrality.
Oil Spill Monitoring
In contrast to 2019 (in which the number of spills reported was substantially higher than recent years), in 2020 spills were seldom and small. Four pollution incidents were reported in 2020, one of which was subsequently determined to be a leak discovered during pipe testing with pressurised water, with no hydrocarbon pollution having occurred. The remaining three incidents were less than 10 litres in total and managed appropriately.
Oil pollution response exercises conducted throughout the year between the Port and other local and national parties have been encouraging, and valuable in assuring the Port that our capability to respond to oil pollution incidents is robust and well-prepared.