2019 Our People
2019 was a year of considerable change at the Port, as is often the way with a change of leadership and organisational structure. We've taken the opportunity to reflect on how we can improve the culture. One outcome is that the Port's management team has sought to make key decisions more collaborative - to include staff more in decisions that directly impact their day-to-day roles.
Staff feedback has been extremely important in helping us shape the culture. For example, we have responded to internal and external resource concerns by creating and recruiting for six new roles into the marine division in 2019. This is in recognition of the fact we are a port first and that we need to build more resilience at the coal face of our core business.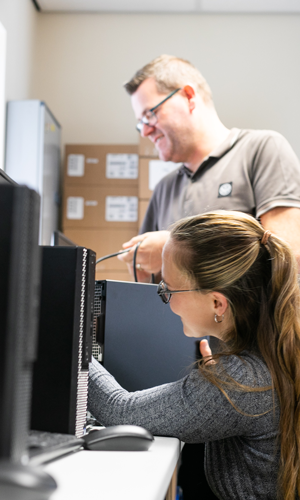 Overall employee satisfaction is the highest ever recorded, and trust in managers, another key indicator of staff motivation, has increased significantly. It may be that the leap of progress in key projects during 2019 has had a galvanising effect. Staff are seeing plans long in gestation finally beginning to materialise and objectives are being achieved.
Employee numbers grew by 14 during 2019 to 190 at the year-end. Staff turnover fell to an exceptional 4.9% with voluntary turnover also falling to 3.3%. Sickness levels for 2019 grew slightly from 2.5% to 2.7%.
Continuing our commitments in line with our Investors in People accreditation remains important. We have rolled out a skills development programme tailored to our business, and all staff involved in delivering projects are receiving a tailored training course to help achieve project goals. We have continued to invest in our systems to enhance operational efficiency for our teams.
Looking ahead, in response to feedback that we need to do more for staff wellbeing, we are introducing mental health first aiders, trained to be supportive for any member of staff who may be struggling.