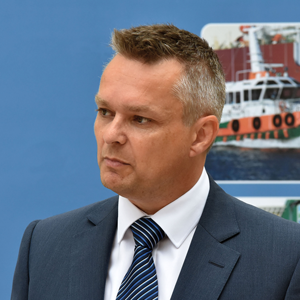 2019 Chief Executive Q&A
How would you summarise the Port's performance in 2019?
2019 has seen a robust financial performance. LNG shipments came in at the second highest level since the South Hook and Dragon terminals were opened, which had a galvanising impact on income from shipping dues. As with the dearth of shipping in 2018, this counter surge is a stark reminder that we do much of our trading in fluctuating conditions over which we have little control. This feast and famine cycle powers our diversification strategy. As the saying goes, you mend the roof when the sun shines, and so now is the right time, not just to fix any gaps in our marine operations' capability but go further by reinforcing and improving that service. We owe it to the customers in our core business, as well as our team on the front line, to be able to handle their trade with appropriate resources in the coming years, come what may.
Elsewhere, we have made significant progress with Milford Waterfront and Pembroke Dock Marine. 2019 was definitely a year of action on both those fronts. I spent many years doing business in North America where the phrase "quit talking and start delivering" was popular. We've started delivering at Milford Waterfront, with outline consent obtained for our masterplan and detailed plans submitted for a new 100 bed hotel and a separate conference and events venue. Collaboration is central to all our plans. Our close partnership with Pembrokeshire County Council and others, so critical to agreeing a deal on Pembroke Dock Marine in 2020, will continue to be crucial in years to come.
What was your key highlight for 2019?
Without doubt, the stand-out X factor in this year's success has come from our employees. They have been brilliant. Their continued focus and positivity are helping us deliver our core purpose, to Build the Haven's Prosperity. They should all be proud of their achievements in 2019 and they've made my first year as Chief Executive a real pleasure.
What are the priorities for 2020?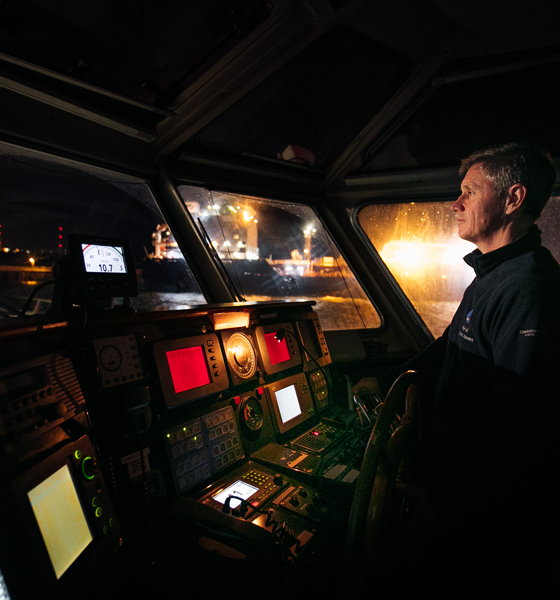 As I hope I have made very clear, ensuring our marine customers can deliver their business objectives in the knowledge we are there for them is an absolute priority. We will continue to build on the work we've done in 2019 to make that happen.
Elsewhere, the great work our team has done to build relationships with stakeholders and partners around the Port must continue. We are proud of our place within our community. As a business, we put weight on what impact our activities have on people and businesses around the Waterway. After all, we all share the same space, so it's vital we work together with that common interest at heart. We also know we will better deliver responsible investment with their help. Those who share our goal to bring prosperity to Pembrokeshire, such as Pembrokeshire County Council and Welsh Government, will be empowered to do so much more if key businesses around the Waterway collaborate. We will continue to lead and enable that collaboration.
It will be a big year for Pembroke Dock Marine. The Swansea Bay City Deal sits with the Welsh and UK Governments for final approval and, subject to that, it's delivery time. The moment we can give the marine renewables and other blue economy industries the green light that Pembrokeshire means business will be hugely important for us and for the local economy. We have a lot invested in the project and a lot of hard work to do in order to deliver it. Meanwhile Pembrokeshire has a great deal to gain if we can deliver year-round skilled jobs and economic growth.
The same goes for Milford Waterfront. With the multi-million pound hotel and separate conference and events venue now with planners, we hope to break ground before summer to be ready for summer 2021. We must also build on the momentum and buzz created by last year's successful events on the Waterfront and continue the collaborative work we are doing with local businesses and residents to make Milford Haven a fantastic destination.
What are the Port's longer term growth plans?
Both Milford Waterfront and Pembroke Dock Marine are fundamental to our long-term diversification strategy. They're not just one-hit wonders - it will take time to deliver the phases on both projects. Our focus will be to ensure we remain on schedule, deliver the intended outcomes, attract commercial partners and that we meet the requirements of our funding partners. These are big projects and, with the opportunities they open up, they will both require focused management to deliver successfully.
Taking a step back, however, we are in the business of shipping and transportation, energy, fishing, real estate, leisure and tourism. I think that just about covers it… As the regional economy evolves and market demands change, it is almost certain there will be new opportunities within one or more of those areas or indeed possibly a new sector. Our team will identify those opportunities that maintain the sustainability of our business and support long-term, stable economic growth and job creation within the region.
What areas do you personally want to see progress in 2020?
Like many businesses we are increasingly aware of our wider impacts. We've always had consideration of our environment within our core principles, but we recognise we must do more, and think more, about other ways to minimise our impact. The way we mitigate these can appear simple, such as adopting bee-friendly planting around our solar arrays, or more transformational, such as driving the growth of the decarbonised renewable energy industry. Either way, we need to take conscious steps in the right direction every single day.
A big theme and a big focus for us in 2020 will be ensuring we pay attention to the wellbeing of the men and women who work for us. We need to take onboard that our staff, the people who keep this Port operating efficiently and safely 24/7, have lives of their own with their own challenges outside their working hours. It pays to remember that we share some responsibility for their wellbeing.
Andy Jones, Chief Executive