Success Stories
"The scholarship programme was enjoyable and beneficial from beginning to end. I was assigned to the Engineering department on a project that was insightful and interesting, as it showed how the knowledge I had obtained over my first year at university could be applied in real world situations.
Overall the Port's scholarship scheme is a fantastic opportunity as it provides you with financial help and gives you invaluable experience in a working environment, setting you up for post university life."
Danielle Rowe, Scholarship Scheme Award 2014/15
---

"The Port of Milford Haven Scholarship Scheme is a unique, highly valuable and consistently interesting experience to be able to be involved in. The application and interview processes were a fantastic way to build confidence and apply skills to a panel interview – great experience for the future.
Whilst the financial aspect of the scheme was undoubtedly helpful, personally the most important and engaging aspect of the scheme was the four-week work placement. I was involved in a wide range of activities, gained an invaluable insight into the day-to-day projects and activities of the Port, and produced a presentation tailored to my degree and interests.
Overall the experience was thoroughly enjoyable from beginning to end and a fantastic experience going forward into my future career."

Catherine Martin, Scholarship Scheme Award 2013/2014
---
"The Port of Milford Haven's Scholarship Scheme offered me a great variety of experience and a thorough insight into the day-to-day functioning of a business. Having been given an overview of some of the operations that occur at the Port, I was assigned an engineering project which allowed me to utilise some of the knowledge obtained through University and apply this to a genuine assignment.

As well as the cash bursary awarded, which has made my time at University significantly easier, I feel that the interview and application process provided me with valuable experience and a key set of skills that will hold good stead for future employment opportunities."
Lukas Weber, Scholarship Scheme Award 2013/2014
---
"The scholarship scheme has given me an excellent opportunity to experience the diverse range of operations that take place at the Port; from cruise ship calls and shipping operations, to engineering project management.
The application and interview process was a good insight into the skills required in a competitive job market, and the placement has given me the chance to apply both technical knowledge and cross-disciplinary skills to a project of genuine importance to the Port, which will certainly be valuable in the future.
The bursary was also of great assistance in the pursuit of my triathlon career alongside my studies, removing a great deal of the associated financial pressure and allowing me to compete at the highest possible level".
Luke Watson, Scholarship Scheme Award 2012/2013
---
"The Port of Milford Haven's scholarship scheme was engaging and varied from beginning to end. The initial interview process was an opportunity to develop confidence and experience talking and communicating with an interview panel for the future.
Although the scholarship helped financially by funding my fieldwork exercises to France, Hong Kong and various destinations across the UK, I feel that the 4 week work experience was the most rewarding and beneficial part of the scholarship scheme. The wide ranges of activities which I was involved in were both interesting and enjoyable and I felt a part of the team at all times. The project work was applicable to a current program at the Port and was tailored to my interests and degree pathway. Overall the experience was highly valuable and allowed me to apply and develop skills from my degree to the work place".
James Brock, Scholarship Scheme Award 2012/2013
---
"All aspects of the MHPA Scholarship have been greatly beneficial to me, and I would encourage all Pembrokeshire students to consider applying. The financial award has been a great help. The money has been used, in part, to fund a legal placement abroad, offering me a unique insight into the work of another jurisdiction and to develop legal skills in a real working environment. The work placement at MHPA was diverse and interesting. It was a good opportunity to improve transferrable working skills as well as providing the chance to put my legal skills into practice. I found the application process simple yet engaging. The interview was relaxed but challenging which was good practice for future recruitment processes."
Anna Marjoram, Scholarship Scheme Award 2011/2012 
---
"I applied for the MHPA scholarship at the start of my third year in University. The online application form was simple to complete and I actually enjoyed my interview! Although I was nervous at first, the interviewing panel displayed a genuine interest in my passion for my degree and other interests, so despite the intensive questioning, I felt instantly at ease.
Receiving the scholarship at this stage in my studies eased the money worries that many students face and enabled me to buy books and other things to aid my education. I have also put some money aside as I hope to travel to Africa next summer to work with malnourished communities-an aspiration of mine that would not have been possible without the financial support of MHPA.
The four week work placement was interesting and enjoyable. As well as gaining an invaluable insight into just how much MHPA do, the project work was specifically tailored to my degree and will unquestionably help me in my future career. I would like to thank everyone at MHPA for their generosity and encouragement."
Jennifer Hall, Scholarship Scheme Award 2011/2012
---
"I found the scholarship scheme thoroughly rewarding. The application process posed a great opportunity to showcase yourself and was quite formal yet friendly throughout. The new work placement being offered is also great fun. Studying in London, the cash prize was a huge benefit and definitely helped with the rent, and the new larger sum will undoubtedly be an added bonus!"
Rhydian Bell, Scholarship Scheme Award 2010/11
---
"The MHPA scholarship scheme is a fantastic opportunity for students. The placement I undertook as part of the scheme was a great way to spend part of my summer vacation. I gained invaluable experience relative to my degree course and had a lot of fun while doing it. Additionally, the financial aspect of the scholarship was very helpful throughout the academic year."
Thomas Gwilliam, Scholarship Scheme Award 2010/11
---
"The MHPA scholarship has helped greatly towards the costs of my university course and it will also finance my stay in London later this year to undertake a work experience placement, which I hope will help towards my future career aspirations.
Even the process itself was beneficial, as it gave the experience of a panel interview and the valuable realisation that to compete against equally capable candidates, in not only this scheme but for future graduate jobs, it is imperative to stand out from the crowd.
Receiving support and investment from the MHPA has motivated me to work harder to achieve my aims and I am very grateful for the kindness and generosity I have been shown."
Catherine McNally
---
"I am incredibly grateful to the MHPA for awarding me a scholarship. I actually quite enjoyed the application process - the form was simple and the interview, although rigorous, was surprisingly fun and challenged my views on many issues.
The money I was given enabled me to travel to East Africa this summer, where I was involved in legal education in isolated villages and prisons, paralegal activities for those held on remand and in supporting a half way house to rehabilitate former prisoners. This was a life changing experience which is likely to shape my future in law, and which only really became open to me because of the generous scholarship I received."
Meg Mathieson, Scholarship Scheme Award, January 2009
---
"Without the scholarship I would not have been able to purchase my own computer, which, in this day and age, would have been a severe handicap for any student. In the end, despite a protracted illness which interrupted my studies at Oxford, I graduated last year with a 2.1 in Molecular and Cellular Biochemistry, finishing with one of the highest 2.1 degrees in my year group. The help I received from the MHPA was invaluable to me in achieving this result. I am now beginning the second year of my PhD in stem cell gene therapy at Manchester University, and thoroughly enjoying being a scientist.
I do hope the scholarship programme continues to give other students the helping hand it gave me."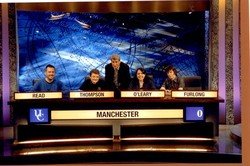 Angharad O'Leary representing Manchester University on University Challenge
---
"Milford Haven Port Authority Scholarship scheme offered me invaluable support towards my ambition of becoming a professional harpist.

Having attended Preseli Comprehensive School, I applied for the scholarship during my time as an undergraduate student at the Royal College of Music, London. I have since graduated with a BMus 1st Class Honours degree, and am now a Postgraduate Scholar at the Royal Academy of Music, and the Official Harpist to HRH The Prince of Wales.

I would definitely encourage students of all ages from Pembrokeshire to apply for the Scholarship scheme as the committee and staff of Milford Haven Port Authority have always shown great enthusiasm and support towards my career over the past few years. Fulfilling and maintaining a life long ambition is about knowing which steps to take in order to achieve your goal. 

Milford Haven Port Authority Scholarship Scheme aims to offer support to the young people of Pembrokeshire in helping them to achieve their goals and ambitions, and I offer my most sincere thanks to the scheme for generously helping me to achieve mine."
Claire Jones, Official Harpist to HRH The Prince of Wales
---